How to Submit GPP Documents
In order to ensure that police reports and invoices/receipts are received within 30 days per GPP Guidelines, these GPP documents must be attached directly to the Footage Request ticket. Replying to the original email chain and attaching the documents or sending an email to the Pro-vigil Service desk Reply To email from the original email will automatically upload the documents directly to the ticket.
How to Add GPP Documents to The Footage Request Ticket Through the Original Ticket Email Chain
Locate the email chain that contained the request for documents or any automated reminders.
Reply all to this email chain with the documents attached.
Documents will automatically be uploaded to the Footage Request Ticket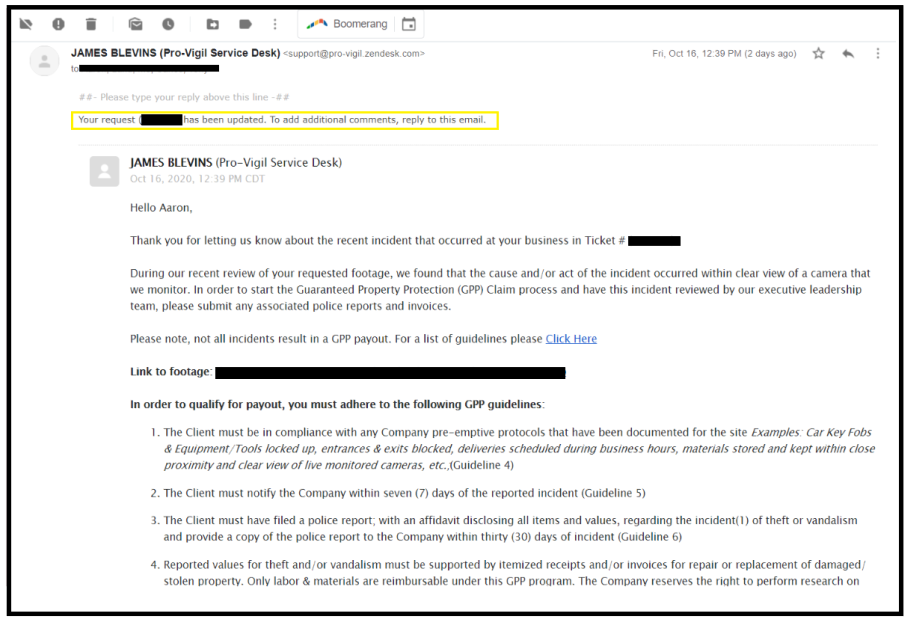 How to Find the Service Desk Email Associated with your Request
Find the Service Desk email associated with your Footage Request.
Locate the associated support email address in the Reply-To Field.
Send email to

Support+id(your ticket number)@pro-vigil.zendesk.com (Reply To Email Field)
Documents will automatically be uploaded to the Footage Request Ticket